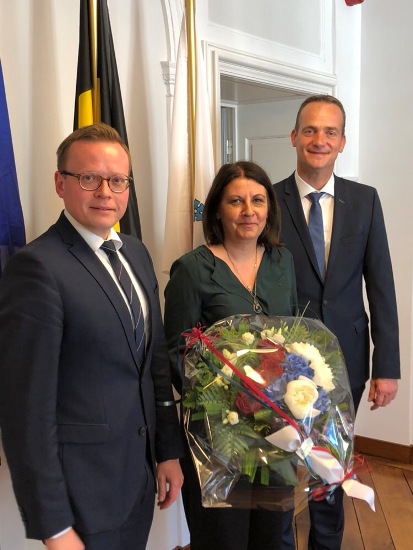 On July 2nd, Ambassador Marina Jovićević met with the representatives of German speaking community, Oliver Paasch, minister president of the regional Government and Alexander Miesen, president of the regional Parliament.
The German community is the third, equitable entity in Belgium and has its own cultural and political role. It has about 77,000 inhabitants.
In the discussion between Ambassador M. Jovicevic and the representatives of the German community, the most talked about education and cooperation, the impact of the migrant crisis and its consequences on Serbia and the German community in Belgium, the path of Serbia towards the EU, the economic situation, and a short film about the development of this region in Belgium was shown.
Ambassador Marina Jovićević enrolled in a book of impressions, and the hosts gave her a bouquet of flowers in the colors of the flag of the Republic of Serbia.
* * *