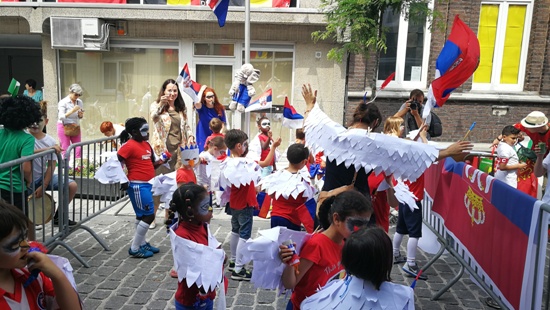 In order to meet the forthcoming 21st World Football Championship in the Russian Federation (June 14-15, 2018), on June 4th, the street "World Cup on the street" was held on the streets of the Vilvord suburb of Brussels. Children from 32 classes (700 children) presented the countries participating in the World Cup in football.
The class which represented R. Serbia won the first place for the originality of costumes, performances, knowledge of the country it represents, the upcoming sports event and motivation. The children made wings of white eagles, which were worn over red jerseys and made it look like "eaglets". They performed several choreographies, waved Serbian flags and rooted for "Serbia".
The Embassy, at the request of a member of the Flemish Parliament, Deputy Mayor for Education, Finance and Prevention, Jo De Ro, provided brochures on natural and cultural beauties, sports activities, culinary specialties (obtained from the Tourist Organization of Serbia) and the flags of the Republic of Serbia. At the event, pies were served, as a traditional Serbian dish as well as sweets from Serbian producers.
On behalf of the Embassy of the Republic of Serbia at the event participated Minister Counselor Irena Banovčanin, who thanked the organizers and children who successfully represented Serbia and showed great enthusiasm for football, a game that connects all nations of the world.
* * *